Welcome to Tanglewood!
The Tanglewood Church of Christ has existed for more than fifty years, meeting at 1329 Tanglewood Lane in Odessa, Texas. Currently the church consists of about 25 members plus children. Once a larger congregation, the building has plenty of room for future growth. Tanglewood is served by two elders, Kevin Adkinson (left) and Don Belk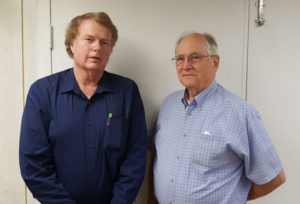 (right). Being a smaller congregation there is opportunity for all to be involved in the teaching, serving and evangelistic programs available. The church office telephone number is 432.366.3619; please leave a message if no one is available to answer.
Current Schedule Sunday Bible Classes 9:30 am; Sunday Worship 10:30 am & 5:00 pm
Tanglewood Bible Institute Thursday Classes 7:00 & 8:00 pm