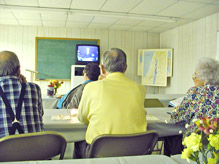 TANGLEWOOD BIBLE INSTITUTE is a tuition-free school founded in 2000 with the goal of providing in-depth teaching and training in the Bible. The Institute has been designated a Certified Satellite School of the Sunset International Bible Institute in Lubbock, Texas. All courses and materials used in TBI have been developed by the External Studies Department of Sunset especially for schools like TBI. As many as 330 similar schools are in operation across the USA and in 15 other nations.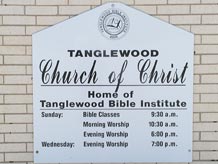 At the present time, Tanglewood Bible Institute classes are conducted on Thursday evenings from 7:00 to 9:00. Two different courses are offered at a time. Each course is either 12 weeks or 24 weeks in length. A normal class period consists of a 30 minute video lecture on the subject matter and 15-20 minutes of class discussion. For maximum flexibility students may take a course at one of three levels: audit, intermediate, or certificate. Because the school is tuition-free, the only costs to a student are the study materials and a modest enrollment fee.
Audit students receive the same instruction as higher level students but are not required to take exams, do memory work or write papers. At present, the only cost to audit a course is the required study guide for that course (average $10 to $13).
Intermediate students are required to complete all exercises in the course study guide, attend all classes, memorize assigned Bible passages and take the written exams. A $20 enrollment fee plus the cost of the course study guide (average $10 to $13) is required. A certificate of completion is awarded at the end of the course.
Certificate students have the most demanding requirements. In return, their course work earns credit at the Sunset International Bible Institute. These students do all the work of the Intermediate level plus extra work including additional memorization, outside reading, and written papers. The cost is the same as the Intermediate level plus required textbooks for the course. A certificate of completion is awarded. Students who complete the entire 32 course curriculum at this level are invited to graduation exercises at Sunset International Bible Institute in Lubbock, Texas.
For more information about the Tanglewood Bible Institute, current course offerings, or to enroll in a class, please call the church office at 432.366.3619 or email us at tanglewoodcoc@hotmail.com.